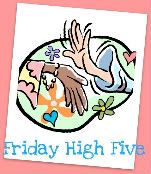 Here are five movie quotes that I actually say in real life. And I've included the videos in case you don't remember them!
1. "Quick! Like a bunny!"
Fear and Loathing in Las Vegas
(6:04) I literally say this every day. Every. Day. To my son, coworkers, other drivers. My sister says it now and didn't know it wasn't something everyone said. Just me, I guess.
2. "Never say never."
An American Tail
I loved this movie when I was a kid. I could never get over the duplicity of this statement though.
3. "Curiouser and curiouser."
Alice in Wonderland
(5:38) This one is classic. And surprisingly fits into many situations.
4. "I'm not even supposed to
be
here today!"
Clerks
(11:18) Haha This one cracks me up every time!
5. "If I'm not back in 10 minutes call the police."
Half Baked
(9:05) I
mentioned before
that Ive watched this movie, but I didn't describe the love. The total love. There are many other quotes from this movie, but this is the one I use as if I made it up.
There's my Friday High Five. You should play along with me over at Angela's!