I am not that shy about sex. I do not mind talking about it. I have been to my share of sex toy parties. This is why when
Eden Fantasys
approached me to talk about their website and products I was excited.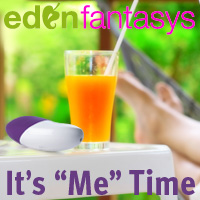 The people at
Eden Fantasys
are wicked nice. They have great products - for everyone. I have the
FingO mini massager
and the
Ben's G-Spot Smoothie
. I did a
review
on the latter. I like them both. The massager is tickley while the smoothie hits just the right spot.
If
sex toys
are not your thing, they have a collection of
beauty and body products
(click on that link if you want to bypass the sex stuff.) They have bath and body, massage, makeup, skincare, fragrance and pheromones products. Honestly, I have not been through those sections because I am more interested in the funner stuff ;)
Eden Fantasys
is a great place to buy products from. Ordering is easy and the packaging is discreet. These products are great to use as a couple. It enhances intamacy and brings you closer together. And guys love a good surprise! I really recommend Eden Fantasys and their adult toys.
I am receiving a gift certificate for this honest post.