Do you like a high powered tingly toy? How about something small and inexpensive?
This small
sex toy
is made of silicone and is super easy to wash. You put your finger through the strap on the left and it turns your finger into a high powered vibrator. You can take the blue tingly part off and just use the bullet inside.
I expected more out of this toy. I expected that the nubs would vibrate more than they do. It is also a little awkward when you put it on your finger because the strap is low. I think it would work better if the strap was a bit higher. I actually prefer to use the bullet without the blue cover. It is quite strong by itself. It is a fun product to use by yourself or with your partner. Though, I think it is way more fun with my partner.
Eden Fantasys
is a great company to buy sex toys from. Ordering is super easy and the packaging is discreet. Also on the package and on your
bill is the name

Web Merchants Inc. to increase your privacy.
I think this toy would be great for people who prefer smaller toys. It would be a great toy to start your collection because it is so inexpensive.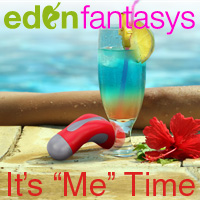 Disclosurer: I received this product free for the purpose of reviewing it. All the opinions are my own and not influenced in any way.